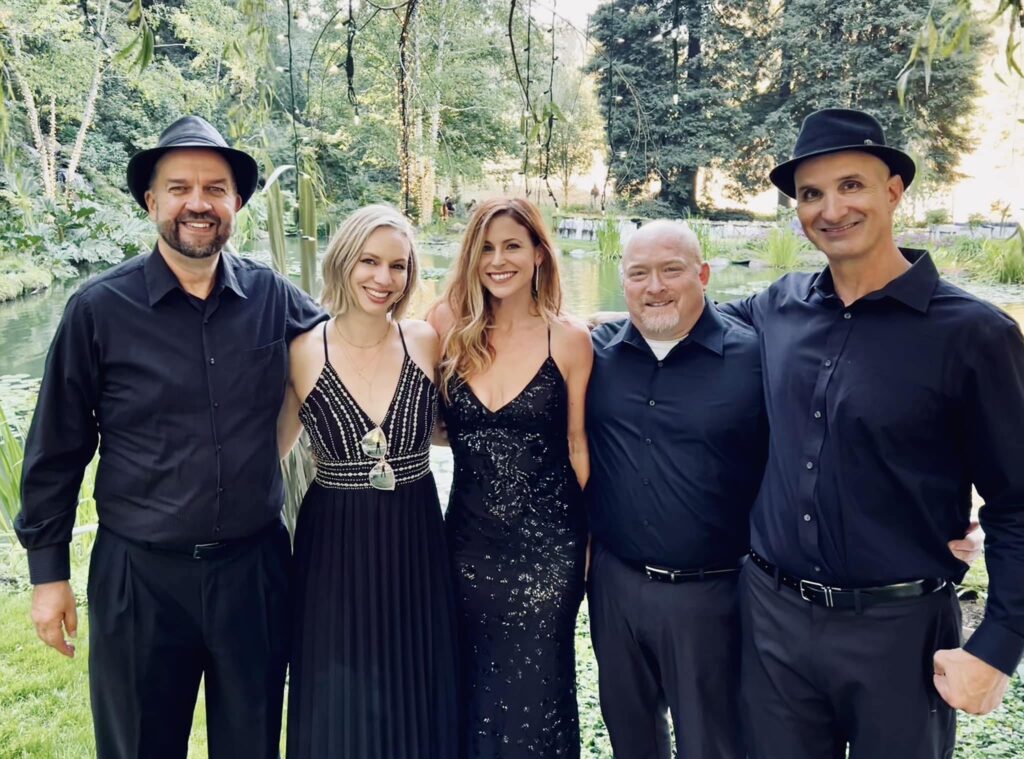 Dana Kelley – Lead Vocals
David Riley – Vocals, Bass, Synths
Leah Borrino – Vocals, Keyboards, Guitar
Mark Eaton – Drums, Percussion
Paul Diakos – Vocals, Guitar, Synths 
Contact us today at:
booking@stompboxband.com
 to get your party started!
Looking for a band that knows how to get the party started and keep it going all night long? Look no further than Stompbox – the ultimate dance band!
With a mix of danceable rock, pop, country, and R&B, Stompbox delivers a high-energy performance that will keep you dancing the night away. Their dynamic vocals from multiple singers, the soaring lead guitar, lush keyboards, and driving rhythm section creates a powerful sound that will rock you to your feet.
For two decades, Stompbox has been packing the dance floor and inspiring crowds to sing their hearts out at a wide variety of events – from 49er's pre-games to weddings, private parties, corporate events, public festivals, and clubs. With a broad spectrum of decade-spanning hits, this band knows how to read a crowd and keep the energy level high.
Whether you're looking for classic rock anthems, modern pop hits, soulful funk and R&B grooves, or contemporary country favorites, Stompbox has something for everyone. Their infectious energy and passion for music are contagious, and their ability to connect with their audience on a personal level is what sets them apart from other bands.
So if you want to have the time of your life and dance the night away, book Stompbox for your next event. They are the perfect choice for any occasion that calls for a great time and unforgettable memories.
Modern Dance
1901 – Phoenix
About damn time – Lizzo
All the small things – Blink 182
Before he cheats – Carrie Underwood
Black Horse and Cherry Tree – KT Tunstall
Blinding Lights – The Weekend
Bohemian Like You – Dandy Warhols
Club can't even handle me – Flo Rida
Creep – Radiohead
Don't start now – Dua Lipa
Don't trust me – 3OH
Don't you worry – Swedish House Mafia
Drive By – Train
Everywhere – Michelle Branch
Exes and Oh's – Elle King
Flowers – Miley Cyrus
Get Lucky – Daft Punk
Groove is in the heart (Like a virgin) – Deelite
I believe in a thing called love – The Darkness
I don't care I love it – Icona Pop
I knew you were trouble – Taylor Swift
Juice – Lizzo
Just Dance – Lady Ga Ga
Kids – MGMT
Late night talking – Harry Styles
Levitating – Dua Lipa
Lonely Boy – Black Keys
Mr. Brightside – The Killers
My own worst enemy – Lit
One Headlight – Wallflowers
Poker Face – Lady GaGa
Raise your glass – Pink
Ready to go – Republica
Rebellion – Arcade Fire
Ring of Fire – Social Distortion
Rockafella Skank – Fatboy Slim
Safe and Sound – Capital Cities
Santeria – Sublime
Sex on fire – Kings of Leon
Shake it – Metro Station
Shake it off – Taylor Swift
Short Skirt Long Jacket – Cake
Shut up and let me go – The Ting Tings
Shut up and dance – Walk the moon
Soul meets body – Death Cab for Cutie
Stacy's mom – Fountains of Wayne
Starships – Niki Minaj
Stronger – Kelly Clarkson
Summertime – My Chemical Romance
Take me out/Relax/Float on/The Wall  – Medley
The Middle – Jimmy Eat World
Toxic – Britney Spears
Underneath it all – No Doubt
Uprising – Muse
Wish I knew you – The Revivalists
You know I'm no good – Aimee Winehouse
You oughta know – Alanis Morrisette
Zombie – Cranberries
Country
Ain't as good as I once was – Toby Keith
Chicken Fried – Zach Brown Band
i'm a keeper – The Band Perry
Man I feel like a woman – Shania Twain
Need you now – Lady A
No shoes, no shirt, no problem – Kenny Chesney
Save a horse, ride a Cowboy – Big and Rich
You and Tequila – Kenny Chesney/Grace Potter
You should probably leave – Chris Stapleton
R&B and Motown
Bad Mamajama – Carl Carlton
Funky Cold Medina
Get down tonight – KC and the Sunshine Band
Groove Line – Heatwave
Heatwave – Martha Reeves
Heard it through the grapevine – Marvin Gaye
Hot Stuff – Donna Summer
I want you back – Jackson 5
I wanna dance with somebody – Whitney Houston
I'm so excited – Pointer Sisters
Kiss – Prince
Let's stay together – Al Green
Second that emotion – Smokey Robinson
Slowhand – Pointer Sisters
Tell me Something Good – Rufus
Tracks of my tears – Smokey Robinson
Uptown Funk – Mark Ronson
White Lines – Grand Master Flash

80's

867-5309 Jenny – Tommy Tutone
Any way you want it – Journey
Beat It – Michael Jackson
Billie Jean – Michael Jackson
Bye Bye Love – The Cars
Don't stop believin' – Journey
Don't you forget about me – Simple Minds
Down Under – Men at work
Fooled around a fell in love – Elvin Bishop
Friday I'm in Love – The Cure
Ghostbusters – Ray Parker Jr
Heartbreaker – Pat Benatar
Here I go again – Whitesnake
I fought the law – The Clash
I wanna new drug – Huey Lewis and the News
I won't back down – Tom Petty
Just like heaven – The Cure
Lights – Journey
Melt with you – Modern English
Money for nothing – Dire Straits
No one like you – Scorpions
Panama – Van Halen
PYT – Michael Jackson
Rebel Yell – Billy Idol
Roam – The B52's
Rock of Ages – Def Leppard
Rock you like a hurricane – Scorpions
Separate Ways – Journey
Should I stay or should I go – The Clash
Summer of 69 – Bryan Adams
Sweet Child of Mine – Guns & Roses
The way you make me feel – Michael Jackson
Timebomb – Rancid
Tom Sawyer – Rush
Train in Vain – The Clash
Video Killed the Radio Star – Buggles
Walking on Sunshine – Katrina and the Waves
Workin for the Weekend – Loverboy
Classic

AC/DC Medley (Shook me/Dirty
Deeds/Thunderstruck/Highway to hell)
Alright Now – Free
Barracuda – Heart
Caught up in you – 38 Special
Couldn't get it right – Climax Blues Band
Could you be loved – Bob Marley
Dancing Queen – Abba
Don't fear the Reaper – Blue Oyster Cult
Edge of 17 – Stevie Nicks
Go your own way – Fleetwood Mac
Gypsy – Fleetwood Mac
Help – The Beatles
Hurts so good – John Mellencamp
I can't go for that – Hall and Oates
If I can't have you – Yvonne Elliman
I'm a believer – The Monkees
I will survive – Gloria Gaynor
Let's give them something to talk about – Bonnie Rait
Little Pink Houses – John Mellencamp
Nigh Fever – Bee Gees
Night Moves – Bob Segar
Peaceful easy feeling – Eagles
Rhiannon – Fleetwood Mac
So into you – Atlanta Rhythm Section
Surfin USA – The Beach Boys
Take the money and run – Steve Miller
You should be dancing – Bee Gees

Public Events Calendar
Helios School Event
May 13th
Private Event

June 24th
Maggie McGarry's
1353 Grant St
San Francisco

August 12th
Las Positas
1828 Wetmore Rd
Livermore

September 22nd
Bistro 880
39900 Balentine Dr, Newark
September 23rd
Emma Lily Winery
Private Event
September 30th
Number 1 Broadway
102 S. Santa Cruz Ave #B
Los Gatos, CA

October 6th
Maggie McGarry's
1353 Grant St
San Francisco

October 21st
Britannia Arms Almaden
5027 Almaden Expressway
San Jose, CA.

December 2nd
Number 1 Broadway
102 S. Santa Cruz Ave #B
Los Gatos, CA

December 16th
Britannia Arms Almaden
5027 Almaden Expressway
San Jose, CA. 

Stompbox is an exceptional band. Gorgeous vocals and harmonies. Tight rhythm section. Tasty and exciting lead guitar. Keys superb. Leah and Dana are super lead vocalists separately but hearing them together reminds me of Heart. Their medleys are super fun and cover both old school and current songs. Their stage prater and teasing demonstrate how much they love and respect each other. Perfect for any dance/early listening venue, along with weddings or corporate events. –
Barry Reynolds
"Thank you so much for playing at the wedding! We loved dancing to your music. So many people came up to us and complemented you and your group. The dance floor was full all night. At the end of the night there were a few people who we couldn't hug goodbye – because they were too sweaty! Thank you again!" –
Emily and Chris Stone
"One of my favorite things about our wedding was that the dance floor was consistently full of people! Thank you for making that happen and playing great sets"-

Dane and Sonja Barca
"Stompbox, truly there are no words to express our gratitude, but here it goes… thank you so very extra special much for playing at our reception last night (and letting us use your equipment)! We loved the music and feel so fortunate to have such talented musicians/singers at our event. It was the perfect set! You were amazing; everyone at the party agreed. We shall forever sing your praises and recommend you to all of our friends, family, acquaintances, neighbors, co-workers and anyone else who may or may not need live music. If there are any social media sites you would like reviews for, I am your girl. Just point me in their direction. Thank you again for helping to make this day so memorable!" –

Heather and Stephen Ott
"Dear Stompbox, you made our wedding! Thank you for meeting with us and making our vision come alive. You were prompt, sounded great, and above all you were fun! Our guests commented about how great you sounded. I especially appreciated you learning some songs for us and executing them beautifully."
–

Tracey Runeare and Ross McMahon
The moment we first heard Stompbox, we knew they would play at our wedding! From the proposal (yes, Dana was there the moment 'she said yes'!) to the wedding day, Stompbox has never ceased to impress us and all our friends. Through our entire wedding music planning process, they were professional and remained a constant background support, without being pushy or controlling never once pressured or rushed us to get the details sorted. It was so nice to know the band was just a phonecall or e-mail away, and our questions and concerns were always replied promptly.
On the day, Stompbox was on time, looked so well put together, and delivered all music selections flawlessly. Additionally, we asked them to coordinate a performance with a musician friend of ours ahead of time and they had it totally under control. They delivered a very memorable and touching ballad, one we are so grateful to them for collaborating. They captivated us and our guests the entire night and never failed to get the party going. There is not one detail we would have changed.
Overall, we would highly recommend Stompbox to absolutely everybody, regardless of the type of music they are into. They play a variety of everything and are very accommodating to suggestions and requests. Stompbox will adapt to what you need, and always with a smile. There is a reason people's faces light up when you say Stompbox was the band at your wedding – you don't get such an amazing reputation without putting 100% into what you do, and Stompbox has truly earned our respect and recognition. We will always be thankful to have had Stompbox play at our wedding.
Thanks Stompbox! –

Ben and Rashna Larson
"We had the best time ever! You guys made the night! We were so happy with how it turned out. We ABSOLUTELY want to have you back every year!" –

Deirdre McMahon Collier, Irish Social Club
"Stompbox was an absolute hit at our company holiday party. They played a variety of songs, that everyone (ages 22-75) loved and was able to dance to. They had a professional look, an awesome sound, and a fun and vibrant feel to their performance. I would hire them again in a heartbeat" –

Felicia Simmons, Leigh/Fisher
"Stompbox came through with everything we wanted for our holiday party. They were totally professional – met with the venue manager for the setup details, arrived and setup on time, nailed all the cover songs and kept the crowd dancing late into the night." –

Darlene Bell, Administrative Manager, Fox Racing